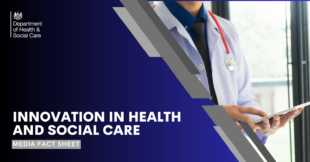 Innovation is crucial for enabling the NHS to increase the speed of diagnosis and deliver better outcomes for patients. We know patients benefit enormously from new technologies, with breakthroughs enabling prevention of ill-health, earlier diagnosis, more effective treatments, and faster recovery.
We have today announced £21 million funding boost to roll out the latest artificial intelligence (AI) across the NHS and help cut waiting lists. NHS Trusts will be able to apply to the AI Diagnostic Fund to accelerate the deployment of the most promising AI imaging and decision support tools to help diagnose patients more quickly for conditions such as cancers, strokes and heart conditions.
Here are a few examples of how the NHS is championing new technologies and innovation in healthcare.
Brainomix – AI brain scanning
Brainomix e-Stroke uses AI to analyse brain scans of people who have had strokes to assist doctors with diagnosis and treatment decisions. The platform also gives doctors a space to share information between hospitals in real-time, which can avoid delays to treatment.
Early studies have shown Brainomix can reduce the time between a patient arriving at hospital after they've had a stroke, to receiving treatment by more than one hour through providing instant interpretations of brain scans to help guide treatment and transfer decisions for stroke patients faster.
The studies also showed it can triple the number of people achieving functional independence after having a stroke, from 16% to 48%, through allow allowing more patients to get the right treatment, in the right place, at the right time.
CaRi-Heart – AI heart scanning
CaRi-Heart is a device using AI to analyse routine heart CT scans and gives clinicians a patient's personalised risk of heart attack over the next eight years.
It helps cardiologists identify people most at risk so they can work with these people at an earlier stage to help reduce their risk of heart disease and death.
It has been tested in The Harley Street Clinic, London Bridge Hospital, The Wellington Hospital and The Lister Hospital as part of the AI in Health and Care Award.
CaRi-Heart has also been used in NHS trusts including Oxford University Hospitals NHS Foundation Trust, Milton Keynes University Hospital NHS Foundation Trust, University Hospitals of Leicester NHS Trust, and The Royal Wolverhampton NHS Trust.
Project OSAIRIS – AI in radiotherapy treatment
Project OSAIRIS uses AI to assist clinicians with preparing patients' scans before radiotherapy and can reduce the time between referrals and starting treatment.
The technology clearly marks healthy organs before a patient begins radiotherapy to protect these organs from radiation.
It was developed by Cambridge University Hospitals NHS Trust and University Hospitals Birmingham NHS Trust.
It is currently being used by Cambridge University Hospitals NHS Trust for head and neck and prostate cancers.
Continuous glucose monitors
FreeStyle Libre 2 are wearable glucose monitoring devices which transform care for eligible diabetes patients by offering intermittent continuous glucose monitoring and eliminating the need for finger prick testing by allowing users to scan the sensor for a reading.
Following a successful uptake programme, FreeStyle Libre is now used by more than 50% of patients with Type 1 Diabetes in the NHS.
These technologies will help people with diabetes manage their condition better by reducing hospitalisations and related illnesses, improving their quality of life and ultimately easing pressure on the NHS.
Dexcom ONE and GlucoMen Day are wearable arm monitors which automatically send information to a mobile app, allowing people with diabetes to always keep track of glucose levels without any kind of testing. They use sensors no bigger than a bottle cap which attaches to the arm for up to 14 days and measures glucose levels from just under the skin.
People with Type 1 diabetes and people with Type 2 diabetes on multiple daily insulin injections can now access life-changing real time continuous glucose monitoring.
Dexcom ONE is now available to NHS patients to collect from pharmacies after being prescribed by their hospital or GP.
SHREWD – an online database for clinicians
Single Health Resilience Early Warning Database (SHREWD) is an online tool which helps track patient flow across hospitals, reducing pressure in pressure points and ensuring people are treated quicker.
It has been developed in Kent & Medway Integrated Care System and allows clinicians to follow every step of a patient's journey from admission to discharge.
Systems such as SHREWD show the demand on Integrated Care Systems (ICSs) and is currently being used in almost half of ICSs and is used by regional and national teams.
What are we doing to deliver innovation in healthcare?
Innovation is the key focus of the NHS Long Term Plan and NHS England has established the Innovation board to promote participation in research, develop technologies to benefit patients, and contribute to economic growth.
We're building the best health and care data in the world by introducing lifelong records to deliver better patient access through the NHS App.
The Our Future Health research programme collects information from up to 5 million adults across the UK to make new discoveries about health and disease.
We are delivering innovation through focussed, system-wide deployment, encouraging ambitious research and implementing processes to increase the speed of rollout.
So far £123 million has been invested in 86 AI technologies across three rounds of the AI in Health and Care Award, supporting over 300,000 patients and improving their care and treatment for health conditions such as cancer, heart disease, diabetes, mental health and neurological disorders.
We published the first government strategy for medtech in February, outlining how we will work with the industry to ensure the NHS has fast and safe access to the latest innovations. We're also creating a new pathway to enable innovators to bring their products to professionals and patients at the earliest, safe opportunity.
The role the NHS has in embracing a culture of innovation throughout the system is fundamentally important to developing the tools needed to drive innovation adoption forwards.