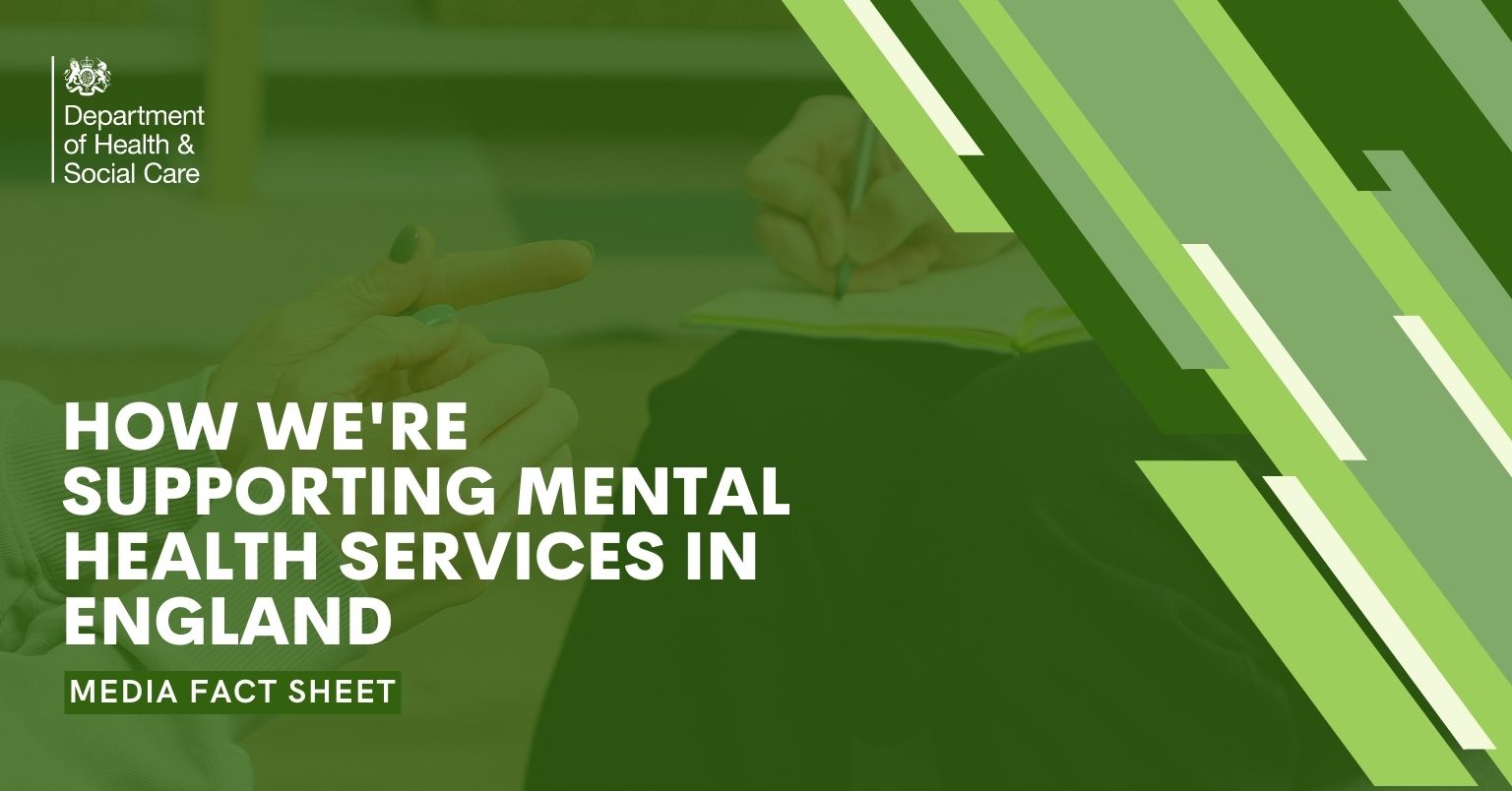 The government is dedicated to improving the nation's mental health and wellbeing, particularly for people who experience worse outcomes than the general population.
This is how we are transforming mental health services in England.
How is the government investing in mental health services?
We are investing at least £2.3 billion of additional funding a year by March 2024 to expand and transform mental NHS health services, so an extra two million people can get mental health support.
We are also investing more than £400 million to improve mental health facilities, including by giving patients the privacy of their own bedroom and eradicating shared dorms.
An additional £150 million will be used to build new facilities to support mental health urgent and emergency care services.
This includes £7 million for specialised mental health ambulances and funding for over 160 wider capital schemes – including to provide new and improved crisis cafes, crisis houses, mental health urgent care centres and health-based places of safety, and broader improvements to crisis lines and emergency departments.
Funding for mental health is expected to increase to 8.92% of NHS funding in this financial year.
 What are you doing to help children and young people get mental health support?
We're determined to do everything we can to support children and young people with their mental health, no matter their background or location.
The £2.3 billion set out above will help an additional 345,000 children and young people to access NHS-funded mental health support by 2024.
Spending on mental health services for children and young people has also increased, with spend of around £1.1 billion planned in this financial year.
Support in school is vital, which is why we are continuing to roll-out mental health support teams to schools and colleges in England.
To note, there are 3.4 million pupils/learners who are covered by a mental health support team in 2022-23, which equates to 35% coverage of pupils in schools and learners in further education in England. We expect there to be approximately 500 teams up and running by 2024, covering around 44% of pupils/learners.
Elsewhere, we launched a campaign with Every Mind Matters in September 2020 to raise awareness of the resources and tools available to support children and young people's mental health.
And the Chancellor announced a £500 million package to transform family support. More than £80 million will be invested in Family Hubs, £100 million to support new and expecting parents' mental health, and £120 million in other comprehensive family support programmes. Further info: Thousands of families to benefit from local support in rollout of Family Hubs - GOV.UK (www.gov.uk)
How are you supporting people with eating disorders? 
We're improving eating disorder and mental health services by investing almost £1 billion in community mental health care for adults with severe mental illness - including eating disorders - by 2024.
Since 2016, investment in children and young people's community eating disorder services has risen every year, with an extra £53 million per year from 2021/22, increasing capacity at children and young people's community eating disorder services across England.
We are expanding the number of trainees and skilled professionals who can provide care for people with eating disorders.
What steps are you taking to prevent suicides?
We are investing £57 million in suicide prevention, and all local areas now have suicide prevention plans to address the specific needs of their populations.
Some 113 community suicide prevention enterprises received a share of £5.4 million in the last financial year through the Suicide Prevention Grant Fund to prevent suicide in high-risk groups.
The Spring Budget included £10 million for a Suicide Prevention Voluntary, Community and Social Enterprise Grant Fund over two years to support people experiencing suicidal thoughts or approaching a mental health crisis.
How are you increasing the mental health workforce?
We are expanding NHS mental health services, and attracting, training and retaining the workforce – with the number of mental health nurses working in NHS trusts increasing by over 1,000 in the past year.
Alongside this, the NHS will soon publish a Long Term Workforce Plan to recruit and retain more staff and make the NHS a great place to work.
This will include projections for the number of doctors, nurses and other professionals that will be needed in 5, 10 and 15 years' time, including mental health.
As of February 2023, there were almost 40,000 full-time equivalent mental health nurses in NHS trusts & commissioning bodies in England.  This is an increase of over 1,000 (+2.6%) since last year.
What are you doing to support the mental health and wellbeing of the NHS workforce?
The NHS provides ongoing physical and mental health support for staff.
This includes targeted psychological support and treatment and a national support service for those with more complex mental health needs brought about by serious issues such as trauma or addiction.
The NHS Practitioner Health service can help with a range of mental health conditions and addictions in primary care settings. It also sees healthcare professionals with more severe illnesses, such as bipolar affective disorder, personality disorders and psychosis and with a range of addiction issues.
How are you ensuring inpatient safety?
Anyone receiving treatment in an inpatient mental health facility should receive safe, high-quality and compassionate care and to be treated with dignity and respect.
We have conducted a Rapid Review into mental health inpatient settings, with a specific focus on how we use data and evidence, including complaints, feedback and whistleblowing alerts, to identify risks to safety.
The findings will be published in due course.
How are you changing the Mental Health Act?
The draft Mental Health Bill (published in June 2022) is intended to modernise the Mental Health Act so that it is fit for the 21st century and works better for people with serious mental illness.
The draft Bill has completed its pre-legislative scrutiny and the Joint Committee on the Draft Mental Health Bill published its report on 19 January 2023.
The department is considering the Committee's recommendations carefully and we will introduce the Bill when parliamentary time allows.