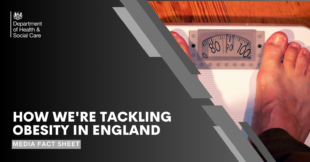 Obesity costs the NHS around £6.5 billion a year and is the second biggest preventable cause of cancer.
Over one in four (26%) adults and 23.4% of children aged 10-11 years in England are living with obesity, placing huge pressure on the health and care system.
We're taking action to help people make healthier choices to tackle obesity, reduce pressure on the NHS and boost the economy.
Here's everything you need to know:
What are you doing to tackle obesity?
We have set up the Office for Health Improvement and Disparities (OHID) to focus on improving the nation's health and tackle preventable conditions such as obesity.
We have introduced a series of measures including:
We also work with the NHS and local authorities to support people living with obesity reach a healthier weight by developing effective preventative care plans for those at high risk of weight gain and diet-related illness. Services range from behavioural weight management programmes to consideration of weight loss drugs and bariatric surgery.
What about new weight loss drugs?
What are your plans for the future?
Have the measures been successful so far?