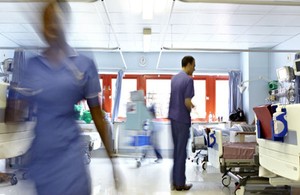 A Department of Health spokesperson said:
"The NHS is very busy but this year prepared for winter earlier than ever. Hospitals are coping well under increased pressure, and compared to January last year saw 111,000 more people in A&E within four hours. We are committed to delivering a safer seven day NHS which is why we have invested £10bn to fund the NHS's own plan to transform services in the future."
Background:
111,000 more people being seen compared to January last year is equivalent to 3,600 more people per day being treated within the target.
Better treatments, drugs and technologies mean people now live for much longer, but often with complex, long term conditions like cancer, heart disease or diabetes.
Compared to five years ago, every day 5,000 more people are seen in A&E, 4,000 more people are admitted to hospital, 21,000 more people have outpatient appointments and the NHS performs 13,000 more tests.
To cope with this extra demand the NHS has over 10,600 more doctors and over 10,600 more nurses on our wards than in 2010 and we continue to invest significant amounts in cures, research and medicines.
The winter months generate greater demand for urgent care, particularly from people going to A&E with conditions that could have been prevented or treated better elsewhere.
The NHS began planning for winter earlier than ever before and there are a number of actions being taken now to make sure people know what they need to do to stay well and take pressure off the NHS. This includes:

A major campaign to encourage vulnerable people to get vaccinated for flu, which hospitalises tens of thousands of people a year. This includes further developments in the childhood flu immunisation programme.
A major campaign advising people on the NHS services available so they can use the right service at the right time and avoid unnecessary trips to A&E.
Every area has worked up joint plans between hospitals, community health services and local councils on where extra resources are needed over winter. This includes plans for emergency staffing in A&Es, opening more inpatient beds, opening community and rehabilitation beds and making extra community nurses available at times of peak demand.
The NHS is supporting people to use the most appropriate service including NHS 111, family GPs and pharmacists to avoid unnecessary trips to A&E.
To keep pace, we have increased the NHS budget above inflation every year since 2010, including an extra £3.8bn this year to help manage demand. This has helped to fund over 10,600 more doctors and 10,600 more nurses on our wards since 2010.
We also gave services earlier access to winter money so that they could start planning for winter sooner than ever before.
The number of people treated for cancer has gone up by 40,000 or 17%, compared to 2009/10.
The number of people waiting more than 52 weeks for treatment has plummeted by nearly 18,000 when compared to May 2010.
Compared to 2009/10, in 2014/15 there were:

9 million more A&E attendances
1.6 million more operations
7.8 million more outpatient appointments
4.7 million more diagnostic tests
645,000 more patients referred to a specialist for suspected cancer
40,000 more patients treated for cancer.