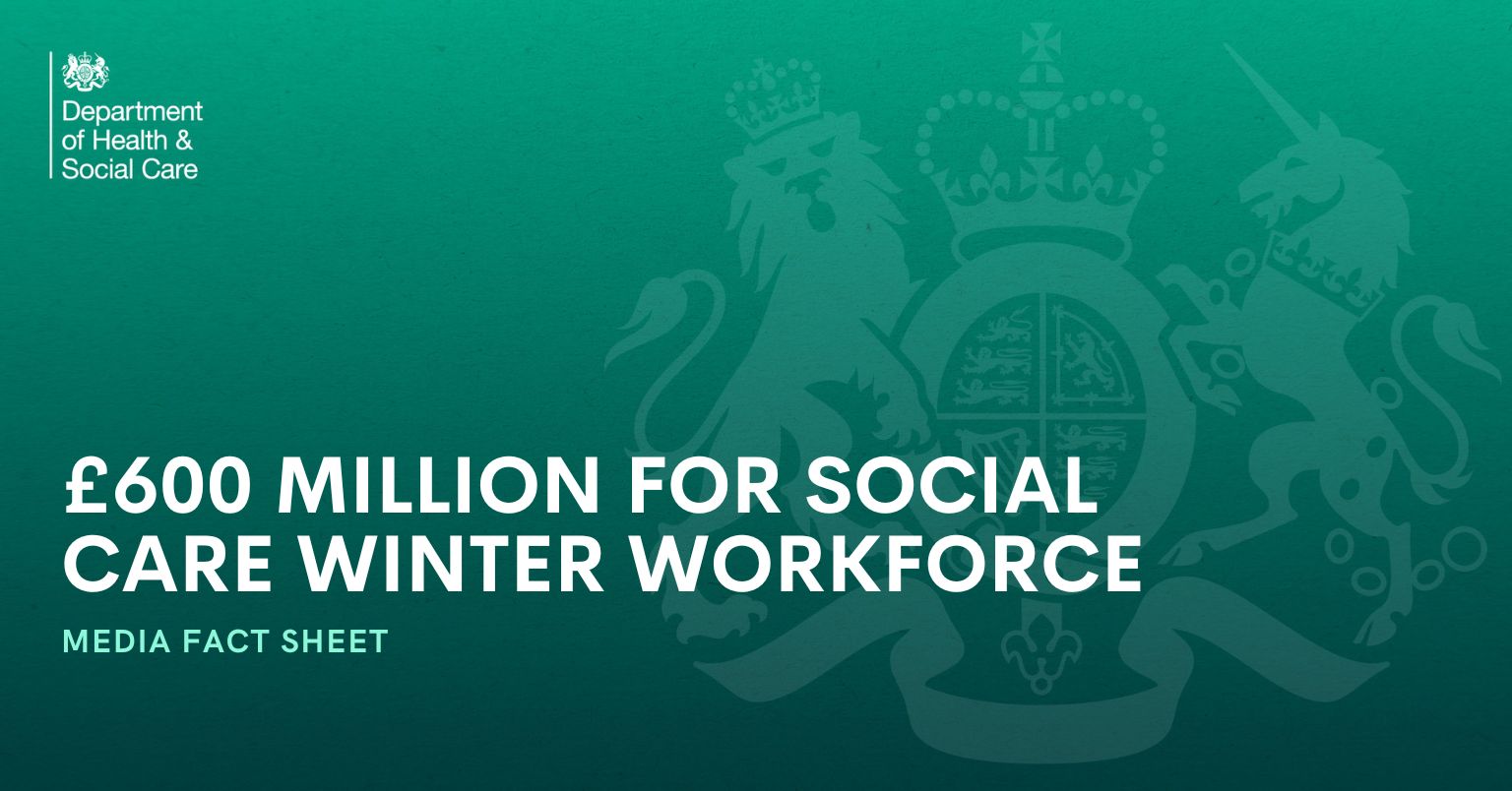 The government is providing £600 million to help with recruitment and retention in social care.
The fund will support the social care workforce and boost capacity in social care, in turn supporting the NHS ahead of winter and through into next year.
What have you announced?
We are setting out how £600 million announced as part of the Next Steps to put People at the Heart of Care White Paper, will be allocated.
The funding includes £570 million to be allocated as flexible funding over two years for local authorities to invest in the social care workforce, including on pay.
This is intended to work alongside the NHS Long Term Workforce Plan to build a stronger overall foundation for the health and social care workforce.
It also includes £30 million, which is being given to local authorities in the most challenged health systems for adult social care on a targeted basis to reflect pressures in urgent and emergency care.
Further details on the specifics of how it will be spent within urgent and emergency care will be set out later.
How exactly will this money be spent?
The multi-million-pound investment will deliver tangible improvements to care and support services, benefitting millions working in or supported by care.
It builds on progress the government has already made on workforce reforms set out in the Next Steps to Put People at the Heart of Care plan - backed by an initial £250 million - which will enable better recognition of social care as a profession.
The £570 million will be given to local authorities as 'flexible' funding to allow them to tailor it to benefit local individual needs.
So, this could be by increasing the rate given to care providers which will encourage better pay for care workers, if that aligns with local needs.
It could also reduce pressures on the health system by increasing the capacity of social care and helping to bolster the sector ahead of winter.
The remaining £30 million targeted at alleviating pressures in urgent and emergency care will help the social care sector to manage the short-term pressures winter presents.
To note, letters have also been issued to local adult social care systems and providers to share the government's priorities for adult social care this winter, and to highlight the key actions local systems and care providers should take to protect individuals, their carers and the sector as a whole. This is to ensure a 'whole system' approach is taken to plan for the colder months and put adult social care on as firm a footing as possible ahead of winter this year.
How is this different to the £250 million allocated in the Next Steps plan?
 Our £250 million investment allocated as part of the Next Steps to Put People at the Heart of Care plan was targeted towards reforming the adult social care workforce with a focus on professional development, skills and career progression.
Who is responsible for increasing care workers' pay?
Most care workers are employed by private sector providers who set their pay and terms and conditions, independent of central government.
But we have raised the national living wage by 9.7% to £10.42 an hour for workers aged 23 and over and are working to reduce vacancies in the sector.
We've previously announced up to £7.5 billion of additional funding for adult social care, and in the Next Steps to Put People at the Heart of Care plan we set out how up to £700 million will be used to improve the adult social care system.