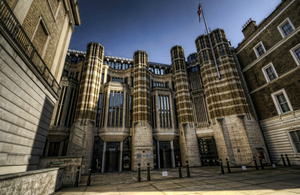 More mental health professionals will be posted in accident and emergency departments as part of new Government plans to reduce deaths through suicide.
A £247 million investment in mental health liaison services will see trained psychiatrists and counsellors made available in casualty units to assess, counsel and refer patients onto other mental health services if they present in A&E with signs of self-harm or other psychological distress.
Local authorities will also be expected to strengthen their suicide prevention plans, and there is an explicit focus on improving how services respond to cases of self-harm, which is now understood to be the biggest single indicator that a person may be at increased risk of suicide.
Latest figures from The Office of National Statistics show that 4820 suicides were registered in England during 2015 - equivalent to 13 people per day. Self-harm is also on the rise, with up to 300,000 hospital attendances per year in England categorised as resulting from self-inflicted injury.
It is hoped that the new strategy, which sets out how local areas should do more to support those at high risk of suicide, will also encourage local authorities to strengthen efforts to reach other groups known to be at increased risk.
These include young men – who are three times more likely to die by suicide than women - those in contact with the criminal justice system, and certain occupational groups.
Many parts of the country already have established preventative plans. These vary by area, but have included: stronger outreach and liaison services, dedicated services for young people who self-harm and training programmes to help health professionals, police and other community services to understand how to identify and respond to people in acute distress.
All local authorities will now be expected to develop strong, multi-agency suicide prevention plans by the end of 2017, ahead of these being checked and approved by the Department of Health.
In addition, NHS England will develop a new care pathway for self-harm, which will provide greater consistency in how those groups are cared for across the NHS, with consistent treatment guidelines for the recognition, treatment and management of self-harm.
There will also be an increased focus on ensuring those who have been recently bereaved – which are another group at increased risk of suicide – receive information and follow-up support to help them cope with their loss.
Health Secretary Jeremy Hunt said:
"Every death by suicide is a tragedy, but too often compounding that is a sense of missed opportunities – occasions when public services and the wider community may have had a chance to step in and help but didn't, either because of a lack of awareness and training, or an inability to make the right connections with other agencies.

"Today's plans are about getting local authorities to develop more targeted, joined-up ways of reaching out to those in the most vulnerable circumstances – as well as better identifying those who need urgent psychological support.

"Suicide is the biggest killer of men under 50, and a leading cause of death in young people and new mothers, so it is vital that we make every contact count with those who may be at risk."
Public Health and Innovation Minister Nicola Blackwood said:
"We are revolutionising mental health support and a central part to this is making sure men and women receive the right support, in the right place and at the right time.

"For the first time our suicide prevention plan will include targeted support for young men and in particular young women who have seen considerable rises in issues such as self-harm."
Duncan Selbie, Chief Executive of PHE, said:
"Wherever they live and whatever their circumstance, a person's mental health needs to be taken as seriously as their physical health. Most mental health issues emerge when people are young and this can have devastating consequences on school attainment, job prospects and the rest of their lives, so early support is crucial."
Notes to editor:
Funding for NHS mental health liaison support is part of the Government's wider commitment to transform mental health services through additional investment of £1 billion by 2020 for improving mental health services. NHS England has also pledged an additional £25million for suicide prevention to 2018/19 – 2020/21.

The £247m funding for strengthening mental health liaison units was first announced in January 2016.

On average, 13 people kill themselves every day and suicide rates in England have increased since 2007. The Government has already set a clear goal to reduce suicides by 10 per cent by 2020.