Sugar levy on soft drinks companies to fund school sports and healthy breakfast clubs - consultation launched today.
Primary school children to get at least an hour of exercise a day
Sugar cut by 20 per cent from foods children eat most.
New rating scheme for healthy schools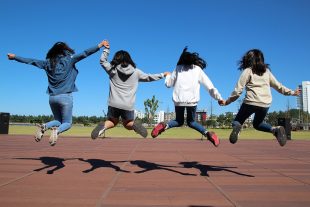 The Government is today launching a far-reaching plan to curb childhood obesity, urging industry to cut the amount of sugar in food and drinks while investing millions of pounds into school sport.
Nearly a third of children aged two to 15 are overweight or obese and this makes them more at risk of suffering health problems later in life.
Sugary drinks are the single biggest source of sugar for children – a child can have more than their recommended daily intake just by drinking a can of cola which contains nine teaspoons.
To help combat this the Childhood Obesity plan will see the food and drinks industry working towards a 20 per cent reduction in the sugar used in products popular with children - including a five per cent reduction in year one. This can be done through cutting sugar levels, making portions smaller or encouraging the uptake of lower sugar alternatives.
It will sit alongside the new Soft Drinks Industry Levy - an ambitious sugar reduction programme which calls on companies to cut sugar in soft drinks.
The money raised from the forthcoming levy will be invested in programmes to reduce obesity and encourage physical activity and balanced diets for school children.
It will:
Double the Primary PE and Sport Premium helping pupils stay active in school and;
Put a further £10 million per year into school breakfast clubs to give more children a healthier start to their day.
The progress made by the industry will be reviewed by Public Health England who will publish updates every six months.
The Financial Secretary, Jane Ellison said:
The Soft Drinks Industry Levy is an important step forward in the fight to halt our obesity crisis and create a Britain fit for the future. Obesity is a threat to both to the health of children, and to our economy, costing the NHS billions of pounds every year. The planned levy is already showing how it can be a powerful signal for change and I urge companies to reformulate their products before it starts in 2018.
The plan also asks primary schools to help every pupil get at least 60 minutes of moderate to vigorous physical activity a day. The plan calls for at least 30 minutes to be delivered in school which could be through active break times, PE and extra-curricular clubs with the remaining 30 minutes supported by parents and carers outside of school time.
Public Health Minister Nicola Blackwood said:
This government is absolutely committed to reducing childhood obesity and one of the best ways to do this is to boost sports in schools.

Team GB has been a huge inspiration at the Rio Olympics. We need to keep that inspiration alive when children go back to school in September - that's why we're asking schools and parents to ensure children do an extra hour a of physical activity every day.

St Ninian's school in Stirling has pioneered the Daily Mile where all children run or walk a mile every day during school hours.  Initiatives like this will make a huge difference to children's health and fitness and we hope our new measures on school sport will help to create future Team GB Olympians.
We are developing a healthy rating scheme which will recognise how primary schools support their pupils to eat healthily and move more and how they can improve further. Ofsted will take account of this as part of school inspections.  
Clearer information about the food families buy is also an essential part of the plans. The UK's decision to leave the EU will give the UK greater flexibility to determine what information should be presented on packaged food. This will build on the success of the current labelling scheme, and look at how industry can make it clearer, for example using teaspoons of sugar to show families what sugar content is in packaged food and drink.
Duncan Selbie, Chief Executive, Public Health England, said:
This plan is the first step on the long road to tackling childhood obesity - one of the most important issues for the future of our children. It outlines significant steps to tackle the problem head on including a commitment to introduce a levy on sugary drinks and an ambitious programme to reduce the level of sugar in food and drink, which we are proud to be leading on.
Other measures included in the plan:
We will work with the Children's Food Trust to develop revised healthy menus to help early years settings such as nurseries and child minders drive better eating habits from an early age.
We are capitalising on the power of technology. We will work to support the development of a number of apps to help people make informed decisions about the food and drink they buy.
Notes to editors
For media enquiries on the Soft Drinks Industry Levy, call the Treasury on 020 7 270 1595 and for media enquiries on the Childhood Obesity Plan call 020 7210 5281.