A campaign launched today aims to raise awareness of how patient feedback is helping drive continuous improvement in NHS services.
The Friends and Family Test (FFT) Spotlight Week will include a range of promotional activities across England over the next five days aimed at giving fresh impetus to FFT which has already gathered 17million pieces of feedback from patients.
The FFT is a quick and easy way for patients to give their views on their experience after care and treatment by their GP or dentist, in hospital or from a range of other NHS services.
This week's campaign features a patient and insight conference in Leeds on Thursday and the announcement of winners in the FFT Awards, which will recognise outstanding work to listen to patients.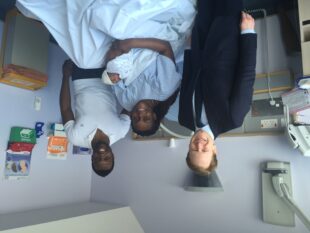 There will also be local events, advertising and a range of other activities such as information stands in public places.
As well as NHS England, many healthcare providers are getting involved, along with some local Healthwatch volunteers, hospital radio stations and patient groups to spread the word about how patients can improve services by having their say.
The Friends and Family Test is a simple question to gauge how patients – whatever their age, medical condition and background – rate their experience of NHS services.  It is quick, easy and anonymous and everyone has the opportunity to respond whenever they use the NHS.
Health Minister Ben Gummer MP today visited a maternity service to see for himself the kind of practical improvements that have resulted from providers putting patient feedback at the heart of how they deliver healthcare.
He visited St Thomas' Hospital's postnatal ward, in the centre of London, where staff are making the early days of parenthood a closer experience for the families involved. The initiative is a finalist in the national FFT Awards.
The Guy's and St Thomas' NHS Foundation Trust has listened to comments from new mums about the need to have the support of their partners or other close family members on the first few nights after giving birth and they have introduced a scheme that allow partners to stay overnight.
Hundreds of families are now benefiting from this facility every month.  Before the initiative, visiting was allowed only during the day and some patients said this caused "anguish" at what should be a joyous time.
Maternity staff, who provide services for 7,000 births every year, reviewed patient feedback and found that issues arising from separation during the first few nights were frequently commented on by patients.
They ran a pilot project to test solutions for the problem.  This involved buying recliner chairs for partners to use and introducing "contracts" with the couples involved so that necessary consents were in place.
Since the initiative was launched, the number of women who would recommend the postnatal services provided has risen from 66 per cent to 90 per cent.  There have also been other benefits such as an increase of women who are able to breastfeed successfully and a reduction in anxiety among the patients.
The trust has adopted the scheme permanently and is now considering a more open policy across other inpatient wards.
Lynne Pacanowski, Guy's and St Thomas' Director of Midwifery & Head of Gynaecology Nursing, said:
We are very pleased to be able to welcome a partner to stay overnight on the postnatal ward. It's so important that they can take part in caring for both mother and baby.

This extra time spent with mum and baby can help family bonding and reduce anxiety and stress. This initiative was prompted by the feedback we received from our parents, including user members of our Maternity Service Liaison Committee, and has proved really successful. It's definitely enhancing the care and positive experience we provide.
Ben Gummer, Minister for Care Quality, said after visiting the hospital to see an example of Friends and Family Test improvements in action:
I want the NHS to be the safest, most transparent and compassionate healthcare system in the world. Feedback from patients and staff is essential to improving care.

The Friends and Family Test is an amazing operation across the NHS. With almost eighteen million responses since its launch in 2013, it has become the world's largest and clearest source of how patients rate their care and experience.

I urge all patients to help drive forward the NHS's culture of learning and improvement, by asking to complete the test when they use an NHS service.
Find out more about the FFT at www.nhs.uk/friendsandfamily