A million more people will get mental health support and £1 billion more will be invested in mental health care by 2021, following the publication of a landmark report published today.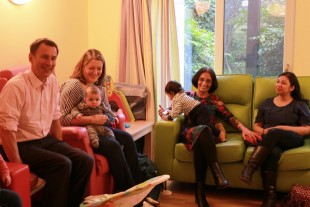 Jeremy Hunt meeting with mothers at a maternal mental health unit in Brent
The Mental Health Taskforce, chaired by Paul Farmer, Chief Executive of the charity Mind, has been reviewing mental health care in this country. Today it has set out its vision for preventative, holistic mental health care and making sure that care is available 24/7 for people experiencing a crisis. The recommendations to be delivered by 2020/21 include:
An end to the practice of sending people out of area for acute inpatient care
Provide mental health care to 70,000 more children and young people
Support 30,000 more new and expectant mothers through maternal mental health services
New funding to ensure all acute hospitals have mental health services in emergency departments for people of all ages
Increasing access to talking therapies to reach 25% of those who need this support
A commitment to reducing suicides by 10%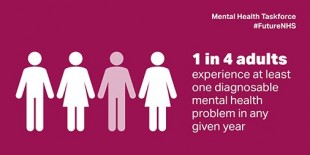 One in four of us will experience a mental health problem in our lifetime and the cost of mental ill health on the economy, the NHS and society as a whole is £105 billion a year. Today's announcement sets the vision of providing better care for more people across the country.
Responding to the announcement, the Health Secretary Jeremy Hunt said:
#mentalhealth: Landmark report from @paulfarmermind @NHSEngland sets vision for MH care https://t.co/vP1ROah1SC pic.twitter.com/K3snVZASpa

— DH Media Centre (@DeptHealthPress) February 15, 2016
This announcement will accelerate the progress that has already been made:
We have increased the money put into mental health every year since 2010, giving the NHS a record £11.7 billion last year
We have introduced the first ever access and waiting time standards for mental health, meaning people will get the care they need when they need it
We are investing £1.4 billion to transform young people's mental health services
Minister for Mental Health, Alistair Burt said:
A truly landmark report from @paulfarmermind setting vision for #mentalhealth. https://t.co/cuKxFKFZxd #FutureNHS pic.twitter.com/opxMznAVpO

— Alistair Burt (@AlistairBurtMP) February 15, 2016
Later that day, the Prime Minister hosted CEOs of top UK companies to agree new workplace standards on mental health:
The PM hosted a discussion with major employers on changing attitudes to #MentalHealth in the workplace #LifeChanceshttps://t.co/zsWbV75AYb

— UK Prime Minister (@Number10gov) February 15, 2016
...and the Minister for Mental Health, Alistair Burt hosted members of the Mental Health Taskforce to thank them for their work:
A privilege to host the #mentalhealthtaskforce @PaulFarmerMind on such an historic day for #mentalhealth #futureNHS pic.twitter.com/Wwxhjccy73

— Alistair Burt (@AlistairBurtMP) February 15, 2016