Today in an interview with the media, the Health Secretary Jeremy Hunt responded to the junior doctors' strike by reiterating that his priority is "to do the right thing for patients".

He rejected claims that the BMA had submitted cost-neutral proposals for a new junior doctors contract which could have resolved any outstanding issues.
Mr Hunt said "There has been no rejection of any proposals and plans that would deal with this weekend effect that is of such concern to patients and the public"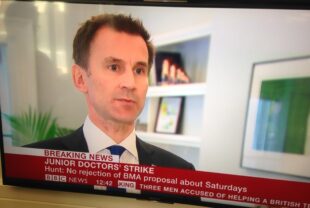 He explained that while there had been many areas of agreement the BMA had refused to negotiate on Saturday working and pay for unsocial hours. He also made clear the new contract will see the vast majority of doctors' pay go up, not down. He added "I think it's a good deal; it's a fair deal"
Figures show that turn out for the strike is slightly lower than last month, with 43% of junior doctors in work today. Mr Hunt thanked all of the junior doctors who did turn out for work today and said he hoped a resolution could be reached as soon as possible.