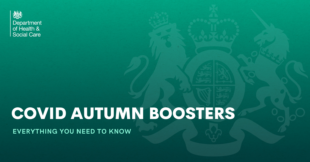 People at greatest risk of serious illness from Covid, including care home residents, over 65s and frontline health and social care workers, are eligible for an autumn vaccine booster.
Here's everything you need to know.
Am I eligible for an autumn Covid booster?
The following people are eligible for an autumn Covid booster:
This is because the risk of severe Covid continues to be strongly associated with increasing age and underlying health conditions.
When is the booster available and how do I book an appointment?
Vaccinations will begin on 11 September for those most at risk, including adult care home residents and people who are immunosuppressed.
From 18 September, the NHS will start to invite people in priority order of risk and those eligible will be able to book an appointment on the National Booking Service.
Further information is available here.
Why have you moved the starting date forward?
This year's autumn flu and Covid-19 vaccine programmes will start earlier than planned in England as a precautionary measure following the identification of a new Covid variant.
The precautionary measure is being taken as scientists from UK Health Security Agency (UKHSA) examine the variant BA.2.86, which was first detected in the UK on Friday 18 August.
According to the latest risk assessment by the UKHSA, BA.2.86 has a high number of mutations and has appeared in several countries in individuals without travel history.
While BA.2.86 is not currently classified as a variant of concern, advice from the UKHSA suggests that speeding up the autumn vaccine programme will deliver greater protection, supporting those at greatest risk of severe illness and reducing the potential impact on the NHS.
How does the JCVI define a clinical risk group? 
Tables 3 and 4 of the Covid-19 chapter of UKHSA the Green Book defines who is in a clinical risk group.
Clinical risk groups for individuals aged 16 years and over include:
Chronic respiratory disease
Chronic kidney disease
Chronic neurological disease, such as stroke and individuals with cerebral palsy, profound multiple learning disabilities, Down's syndrome, multiple sclerosis, epilepsy, dementia, Parkinson's disease, motor neurone disease and related or similar conditions.
Diabetes
Those with immunosuppression
Asplenia or dysfunction of the spleen
Morbid obesity
Severe mental illness
Younger adults in long-stay nursing and residential care settings
Pregnant women
Clinical risk groups for those aged under 16 years include:
Chronic respiratory disease
Chronic heart conditions
Chronic conditions of the kidney, liver or digestive system
Chronic neurological disease
Endocrine disorders
Immunosuppression
Asplenia or dysfunction of the spleen
Serious genetic abnormalities that affect a number of systems
Pregnancy
What about people who've not had a Covid vaccine?
The JCVI advises that people who have not yet received their first Covid jab should be offered a single vaccine dose as their primary course.
The criteria for eligibility for a first Covid vaccine is the same as the autumn 2023 booster.
Why should I get an autumn booster?
Vaccines help to protect against severe illness, hospitalisations and deaths from Covid.
People who received an autumn booster vaccine last year were around 53% less likely to go to the hospital with Covid in the two to four weeks after getting vaccinated, compared to those who didn't get a booster.
Last year's autumn booster programme saw almost 84% of over-80s vaccinated and more than 73% of 65-70-year-olds, protecting the most vulnerable and helping us to live with Covid.