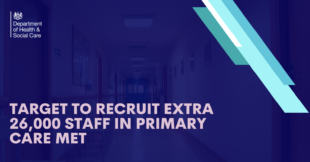 The government has met its target of recruiting 26,000 additional primary care professionals – one year ahead of the March 2024 deadline.
Data published today by NHS England shows there are 29,103 additional primary care staff delivering care to patients and supporting one of the government's key priorities to cut waiting lists.
Health and Social Care Secretary Steve Barclay said:
"This government is focused on cutting waiting lists – which is one of our five priorities –  and getting patients the care they need, when they need it.
"We have delivered on our promise a year early to recruit 26,000 extra primary care professionals which means more clinicians delivering better, more specialised and accessible care to patients.
"Building on the Primary Care Recovery Plan, we are determined to end the 8am scramble, improve technology and reduce bureaucracy."
Here's what you need to know: 
What services will these extra staff deliver? 
The extra primary care professionals provide direct patient care or assist doctors in doing so, and do not include administration positions. The roles include:
paramedics
pharmacists
pharmacy technicians
physician associates
physiotherapists
podiatrists
social prescribing link workers
occupational therapists care coordinators
dieticians
health and wellbeing coaches
nursing associates
trainee nursing associates
Are these staff adequately trained to deliver appropriate care?
 These highly-trained staff form part of multi-disciplinary teams, working alongside GPs to care for patients with complex needs. They will deliver more specialised and accessible care to patients.
The introduction of our Pharmacy First approach, which supports community pharmacists to deal with a wider range of common conditions, will also reduce the pressures on GPs and provide patients with more options for accessing the care that they need.
What are you doing to deliver more GPs?
There are record numbers of doctors and nurses working in the NHS helping to deliver extra appointments, speed up diagnoses and tackle the Covid backlog.
Data shows there are 440 more doctors working in general practice and face-to-face appointments are on the rise.
We have record numbers of doctors in GP training and we will soon publish a Long-Term Workforce Plan for the NHS.
Recent data shows there were almost two million more GP appointments delivered in March 2023 compared to a year ago – that is 83,500 more appointments each working day.
The latest monthly general practice workforce data is available here: General Practice Workforce, 31 March 2023 - NDRS (digital.nhs.uk)
The latest GP appointment data is available here: Appointments in General Practice, March 2023 - NDRS (digital.nhs.uk)
Are you investing further money into primary care to support these extra staff?