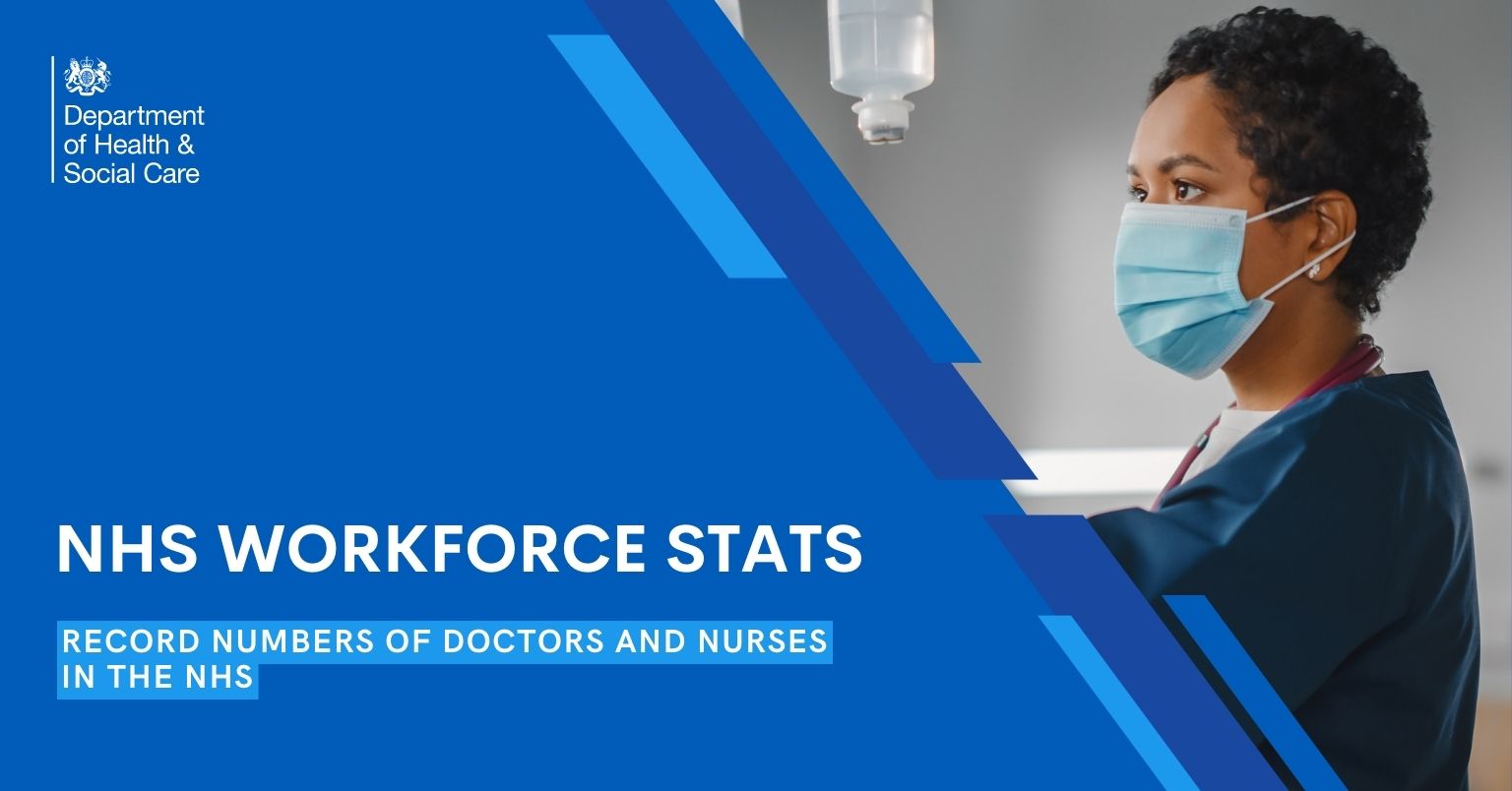 *Updated 27 April*
There are a record number of doctors, nurses and other healthcare staff working in NHS trusts in England helping to deliver extra appointments, speed up diagnoses and tackle the Covid backlog.
This is what you need to know.
How many NHS staff do you have?
There are more than 1.27 million full-time equivalent staff working in NHS trusts in England. This is 51,500 more people compared to a year ago - an increase of 4.2%.
There are over 5,300 more doctors and over 12,300 more nurses working in NHS trusts compared to February 2022.
Since 2010, there are now over 37,800 more doctors and over 53,700 more nurses.
We are on target to meet the 50,000 nurses manifesto commitment - with almost 43,000 more nurses in February 2023 than there were in September 2019.
What about general practice?
There are 440 more full-time equivalent doctors working in general practice compared to a year ago.
There are also more than 25,000 extra staff working in primary care, including GP surgeries and community pharmacies, compared to March 2019.
We are on track to reach our target of 26,000 more staff in primary care by March 2024.
These extra staff helped to deliver almost two million more GP appointments in March 2023 compared to a year ago – that is 83,500 more appointments each working day.
What are you doing to recruit and retain more health workers?
These figures demonstrate the clear progress being made to train and recruit record numbers of staff across the NHS.
We will soon be publishing a long-term workforce plan focused on recruiting and retraining more staff.
We will also be publishing a plan outlining further support for primary care.
What have you already done to boost the workforce?
We have:
Reformed the pension tax system and NHS Pension Scheme to encourage more experienced, senior staff to remain in work for longer.
Funded an extra 1,500 medical school places per year - a 25% increase - and created five new medical schools as part of this process.
Since September 2020, we have made available a new, non-repayable training grant of at least £5,000 per academic year for nursing and midwifery courses and further funding of up to £3,000 per academic year for eligible students.
Published the NHS People Plan in July 2020, putting NHS staff wellbeing at its heart with a recruitment, retention, and support package. It sets out practical support for wellbeing such as wellbeing guardians and support to keep staff physically safe and healthy.
Launched a fifth consecutive national recruitment campaign 'We are the NHS' to inspire people to consider a career in healthcare and increase applications for healthcare courses.
For the third consecutive year, seen over 26,000 acceptances to undergraduate nursing and midwifery programmes and in 2022 there were 3,700 more acceptances compared to 2019 – a 16% increase.
Last year, had a record breaking 4,032 doctors accepted on to a place on GP training.
Where can I access the figures?
The latest figures for February 2023 can be found in full below:
NHS workforce: NHS Workforce Statistics - January 2023 (Including selected provisional statistics for February 2023) - NDRS (digital.nhs.uk)
General practice workforce: https://digital.nhs.uk/data-and-information/publications/statistical/general-and-personal-medical-services#latest-statistics
Our latest statement
Health and Social Care Secretary, Steve Barclay, said:
"Today's figures demonstrate the clear progress being made to train and recruit record numbers of staff across the NHS and in primary care. Cutting waiting lists is a key priority for this government and we are committed to ensuring we have the workforce in place to achieve that.
"We will soon be publishing a long term workforce plan focused on recruiting and retraining more staff – to help tackle the backlogs and improve patient care. We will also be publishing a plan outlining further support for primary care."