The Department of Health backs the 22 new vaccines and diagnostic devices with the potential to eliminate the world's deadliest diseases.
UK scientists to benefit from £25 million funding pot.
Hunt: This investment will make it more likely the next major breakthrough will be discovered in Britain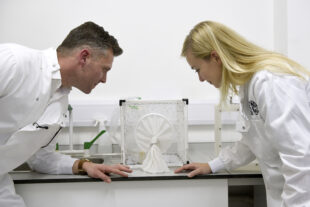 Today, the Department of Health has announced a multimillion pound funding boost for 22 new vaccines – all with the potential to take on diseases with epidemic potential such as Ebola, Zika and MERS.
Infectious diseases do not respect borders so by leading the world in global health we are strengthening our defences against deadly diseases and protecting UK citizens.
Many of the winning projects, including SMEs and teams based at leading universities across the country, will be able to begin work immediately thanks to this funding.
£25million has been made available to support these exciting projects.  Teams  across the UK will receive their share of £10m of upfront support to their projects at an earlier stage of vaccine development, with a further £15m available to support the projects that demonstrate the most early success take it the research to the next stage.
The fund is aimed at the 12 diseases identified by the UK Vaccine Network as a priority (chikungunya; Crimean-Congo haemorrhagic fever; Ebola; hantavirus; lassa fever; Marburg virus; Middle East respiratory syndrome; nipah; plague; Q fever; Rift Valley fever; Zika).
This latest commitment expands the Department of Health's existing world-leading investment,  directly supporting 48 projects to develop 53 vaccines to tackle the world's most dangerous diseases, as well as five projects supporting technologies to improve the manufacture and administration of vaccines and new diagnostic devices. As well as saving lives around the world, this funding will support the UK economy with a £7 return on every £1 we invest. This investment is estimated to result in the creation of 147 jobs across the country
These projects will be the latest to benefit from the UK Vaccine Network – a £120 million fund launched after the Ebola crisis to support Britain's world-leading role fighting deadly diseases.
Health Secretary, Jeremy Hunt said:
"The UK is leading the global fight against deadly diseases and we can be proud of the research in British laboratories. It is vital our world-class research companies build on this success and remain at the forefront of work to develop vaccines against life-changing diseases such as Zika and Ebola.
"Our continued investment will continue to support the best and brightest minds, secure highly skilled research jobs, and make it more likely the next major breakthrough will be discovered in Britain."
---
List of projects to be funded
| | | |
| --- | --- | --- |
| Project Title | Lead | Cost |
| EML-VAC: Multivalent replicon vaccine against Ebola, Marburg and Lassa viruses | Robin Shattock, Imperial College | £492,527 |
| Exploitation of x-ray irradiated viruses for vaccine development (focussed on Rift Valley Fever) | Scott Dowell, Public Health England | £452,324 |
| A Novel Diagnostic for anti-Zika Antibodies to Inform Deployment of Zika Vaccines | Excivion Ltd | £500,000 |
| Novel multivalent vaccines against haemorrhagic fevers. | Teresa Lambe, Jenner Institute | £483,455 |
| Trivalent Lassa, Ebola and Marburg viral vaccine   (Tri-LEMvac) | Jonathan Heeney, University of Cambridge | £695,639 |
| Validation and cGMP manufacture of a Zika and Multivalent Filovirus vaccine | Emergex Vaccines | £499,825 |
| Development of Virus-Like Particles as vaccines against emerging viral diseases (focussed on Chikungunya and Rift Valley Fever) | Leaf Systems International Limited | £490,375 |
| Multivalent Attenuated Vaccine against Viral and Bacterial Zoonoses in Ruminants (Developing multivalent against Rift Valley Fever and Q Fever) | Plymouth University | £408,589 |
| Development of a novel vaccine to protect against Q fever epidemics | Andy Pollard, Oxford Vaccine Group | £469,049 |
| A novel livestock vaccination platform to prevent zoonotic emerging infections (focussed on Q Fever, Rift Valley Fever and CCHF) | Keith Matthews, University of Edinburgh | £327,239 |
| Nanoparticle-based Vaccine Platform against Zika Virus Infection | Vaxinano | £208,500 |
| Development of inducible expression-inactivated Leishmania as vaccine carries (focussed on developed a multivalent vaccine against Ebola, Marburg and Lassa) | Genefirst ltd | £499,000 |
| Preclinical Crimean Congo Haemorraghic Fever Vaccine Development | Sarah Gilbert, Jenner Institute | £350,780 |
| New Application of a DNA-nanorod Platform for Vaccine Development | Yun Yu, University of Strathclyde | £394,466 |
| Multivalent Hantvirus-Vaccine (MVA SEO-HTN: Vacc) and a ferret model of disease | Roger Hewson, Public Health England | £476,102 |
| Pan-filovirus T-cell Vaccine Designed as Bi-valent Conserved Region Epigraphs | Tomas Hanke, Jenner Institute | £499,155 |
| Development of a Novel Nipah Virus Pre-Fusion Protein Recombinant Vaccine. | Agri-Food and Biosciences Institute | £271,373 |
| Preclinical PoC of multivalent vaccine agents & technology platform (focussed on vaccines for Chikungunya, Zika and Ebola) | Activirosomes UK Limited | £448,950 |
| Using engineered gut bacteria-derived microvesicles for Plague vaccines | Simon Carding, UEA | £499,798 |
| Serological Vaccine Standards for Ebola, Zika and MERS | Neil Almond, NIBSC | £499,995 |
| Adjuvant free vaccines and companion diagnostics to control emerging flaviviruses (focussed on Zika) | Richard Pleas, Liverpool School of Tropical Medicine | £382,974 |