Barcode technology used in major industries such as aerospace and retail is introduced to the NHS in England in a bid to revolutionise patient safety.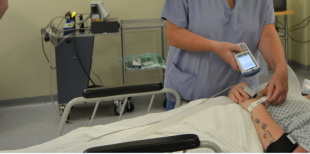 In a pioneering initiative spearheaded by the Department of Health, barcodes are being placed on replacement hips, medication and surgical tools, in a new drive to keep patients safe.
The £12 million Department of Health 'Scan4Safety' project is already enabling staff to quickly and easily track each patient through their hospital journey. In six pilots across the country, from the uniquely barcoded wristbands patients receive when they enter hospital, to the barcodes used to record their medication and the equipment used in their treatment, each code can be scanned to show exactly which member of staff administered each treatment, at what time and where.
The barcodes mean that everything from a screw used in a knee operation or a breast implant that may develop a fault years later can be instantly traced. We can find out details such as when it was used and the surgeon who carried out the procedure. Given the impact of avoidable harm in hospitals across the world – patients being administered the wrong drugs, surgery being performed on the wrong part of the body – this drive represents a huge step forward in eliminating such errors.
Early results from six pilot sites suggest 'Scan4Safety' has the potential to save lives and up to £1 billion for the NHS over seven years.
Secretary of State for Health Jeremy Hunt said:

Scan4Safety is a world first in healthcare – and a vital part of this government's drive to make the NHS the safest and most transparent healthcare system in the world.

Using simple barcodes that major industries rely on every day will help to transform standards of care – before, during and after patients have treatment, at the same time as freeing up resources for care by reducing waste.
Tim Wells, Consultant Cardiologist at Salisbury NHS Foundation Trust, said:

The recent implementation of the Scan4Safety project in Cardiology provides us for the very first time complete traceability of products such as implantable medical devices used with our patients.

Knowledge is power - not only does this provide us with a level of data and insight that can be used to better challenge clinical practice and variation, helping us to reduce inefficiencies and improve patient experience and outcomes - more importantly it ultimately helps to safeguard our patients from avoidable harm. In the event of a product recall, we can now easily and quickly track an affected product to the right patient.
Scan4Safety is being piloted across the NHS at six sites - in Derby, Leeds, Salisbury, Cornwall, North Tees and Plymouth. These sites have reported that the world-leading scheme is not only reducing unnecessary waste and effectively managing medical stocks, but is also saving valuable staff time and giving the patient more information about their treatment.
On average, one hour a day on every nurse's shift is wasted searching for stock (Source: Nursing Times survey 2009) – time that could be better spent with patients. Now, just as supermarkets know when stock is running low or past its sell-by date, the barcode technology means that staff can easily keep track of hospital goods and order them automatically when they need them.
Scan4Safety removes human inventory errors, and registers 'use-by' dates on medicines and equipment meaning that stock can be managed easily and patients given the most appropriate medicines. Scan4Safety can also be used to see how effective different equipment is, for example, if one type of hip replacement wears out more easily than another, improving patient outcomes and streamlining the health system.