A drive to ensure people's experiences of dementia are heard and acted on has been launched today by care minister David Mowat. People with dementia and their carers will have an opportunity to voice their opinions in a national survey.
The new survey has been developed in collaboration with dementia organisations and people with dementia and their carers. It will seek views about the quality and experience of getting a diagnosis, the level of care and support received after a diagnosis as well as people's understanding of dementia in local communities.
Speaking at the Annual Dementia Congress in Brighton, the minister will reaffirm the Government's commitment to continue to implement the Dementia 2020 Challenge.
Minister for Community Health and Care, David Mowat said:

We are not the experts on what it is like to live with dementia. We need to hear the views of others to ensure we continue to work harder than ever to improve the care and support people with dementia, their families and carers receive.

I want to encourage people with dementia, their carers, and organisations supporting these people to get involved and promote this engagement. It is an important opportunity for us to understand how it really feels for those we are all working so hard to support.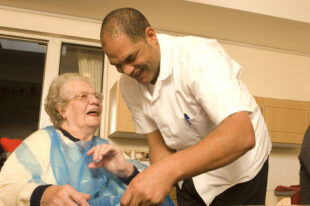 Dr Matthew Norton, Director of Policy at Alzheimer's Research UK, said:
Improving diagnosis, providing support for people with dementia and increasing public understanding are all crucial in the fight against dementia. We are encouraged that great progress has been made towards tackling dementia, but if we are to understand what's working and where action is still needed, the voices of people affected must be heard.

This is an important opportunity to help shape future work to improve diagnosis, support and awareness, and we would encourage people with dementia and their carers to share their views.
George McNamara, Head of Policy and Public Affairs at Alzheimer's Society said:

Dementia is such a personal condition, interwoven into a person's rich life tapestry, so it is crucial to get as many views of those affected as possible. Without their insight at the heart of policy making we will never truly be able to transform dementia care and post-diagnosis support.

Alzheimer's Society has already been very involved in the development of the Dementia 2020 Citizens' Engagement Programme. We look forward to hearing more from people with dementia and their carers so we can work with the Government to make positive change where it is needed and hear the voices of so many that have never been heard before.
The new survey is part of the Dementia 2020 Citizens' Engagement Programme and builds on the work of the Dementia 2020 Challenge Implementation Plan to provide insight on how dementia care, support and research is being delivered from the perspective of people with dementia and carers their carers.
To support local dementia groups and networks right across England to get involved in the programme the minister will also launch an engagement toolkit. This will provide practical support for individual and community groups to have conversations about dementia in order to provide insight into what is working and what needs to improve.
The Government is keen to ensure that all voices are heard, particularly those from diverse and seldom heard communities. With this in mind bespoke discussion groups will be coordinated with these communities.
The survey is available at https://consultations.dh.gov.uk/dementia/care-support-and-awareness/