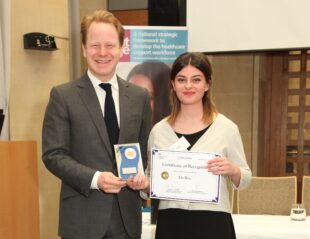 Earlier this week (Tuesday 15th March), apprentices from across England were recognised for making an outstanding contribution to their NHS organisations.

The celebrations were part of National Apprenticeship Week (14 – 18 March). 
Speaking from the ceremony, Health Minister Ben Gummer said:

It was truly inspiring to meet these young people. They are the future of the NHS and will help to ensure we can continue to provide safe care seven days a week.

A career in the NHS should be open to everyone and as one of the largest employers in the world, I am immensely proud that our health system is leading the way in offering thousands of aspiring, young people opportunity. This is further evidence that the Government is committed to creating more jobs and opportunities for Britain. 
The awards follow the announcement earlier this year that the NHS expects to create 100,000 apprenticeships – almost seven times the current number - by 2020, offering opportunities to thousands of young people.

The scheme will also mean existing NHS staff can enhance their current role through an apprenticeship. Roles will be created in a range of areas within the NHS, including:
Healthcare assistant practitioner;
IT, estates and facilities;
Domestic and housekeeping services;
Business administration and accounting.
This apprenticeship drive was backed by Ministers in December when they announced the introduction of a new apprenticeship role – provisionally called the nursing associate. It is anticipated that up to 1,000 people could be trained in this new nursing support role from 2016.  
For more examples of how the NHS is supporting apprentices, please click here.
Follow us on Twitter
Sign up for email updates